Shainoor Ladha-Karmali
Associate General Counsel, College of Medicine; HIPAA Privacy Officer
---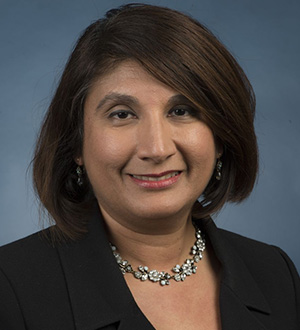 Shainoor Ladha-Karmali has served as Associate General Counsel since 2011. She also serves as a HIPAA Privacy Officer for the College of Medicine and HIPAA counsel for the university. Prior to joining the university, she served as in-house counsel for Advent Health, a multi-regional integrated health care system, for over 12 years, specializing in Health Law.
Shainoor provides operational legal support and advice to the Academic Health Sciences Center, including the multi-specialty clinic, HealthArch (which works with community physician practices in improving health care delivery and quality), Burnett School of Biomedical Sciences, the Graduate Medical Education program, among others. In addition, she handles a wide variety of health law related matters for various units, departments, and colleges at the university.
She advises leadership and others regarding health care regulatory requirements related to complex health care transactions and joint arrangements. Shainoor also advises on medical education standards, medical resident matters, patient care matters, patient privacy, data breaches, conflicts of interest involving health care industry, and federal requirements governing financial relationships with pharmaceutical companies and medical device companies. Her experience includes reviewing, drafting, and negotiating health care related contracts for the university as well as other business contracts for the College of Medicine.
Currently serving on a variety of committees at the university and at the College of Medicine, Shainoor spearheads the UCF Health Sciences HIPAA Collaborative to develop and implement uniform HIPAA Privacy and Security Policies for the university.
Her community involvement also includes serving on the American Health Lawyers Association Women's Leadership Council, on the judging panel for the American Health Lawyers Association inaugural IDEA Champion Award, has been a civil mediator since 2002, and served as a chairperson for a faith-based mediation board for seven years. She is a proud graduate of the Dean's Leadership Enhancement Program (2017-2018).
Shainoor received her Bachelor of Science in Psychology, cum laude, from University of Washington, her Juris Doctor, cum laude, from Seattle University, and her Master of Business Administration from University of Central Florida. She is admitted to the Florida Bar.
Professional Affiliations
Florida Bar
American Health Lawyer's Association
UCF Committees
UCF Health Sciences HIPAA Collaborative
UCF Health Compliance
UCF/HCA Florida Healthcare GME-Graduate Medical Education Committee
UCF College of Medicine Council for Diversity and Inclusion
UCF Compliance and Ethics Advisory Committee
UCF Security Incident Response Committee
UCF College of Medicine Industry Relations Committee
Areas of Responsibility
Academic Health Sciences Center
College of Medicine
Conflicts of Interest
Contracts - COM
Graduate Medical Education
HIPAA Health Law
Education
Languages